SYLABS
>
Blog
>
Uncategorized
>
Interview: Meet Chawki, the owner of a startup that provides books for 48 Willayas in Algeria
Interview: Meet Chawki, the owner of a startup that provides books for 48 Willayas in Algeria
30/03/2020

Posted by:

Sylabs Team

Category:

Uncategorized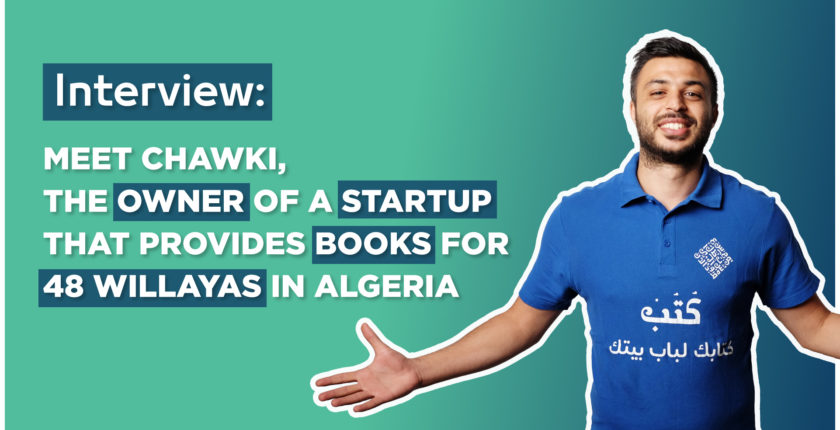 "

The Algerian market is very promising…and we are moving forward"

-Chawki Amrouche-
---
Sylabs is a hub that attracts and hots various startups in Algeria, startups that we meet and cross during their wonderful development and growth journey. Each has its own story, its own specificity, and each can be an inspiring example to emulate. This is why we are sharing their experience.  
Today we speak to Chawki Amrouche. While working as an engineer, Chawki co-founded Kotoob in 2017, an online platform that provides book services to 48 Willayas in Algeria and also in other countries, (US, France, Morroco, Syria, etc.) His experience as an entrepreneur has been a great case in point for someone from someone passionate about entrepreneurship.
Chawki was engrossed in his work when we asked him for the interview. He was with his team packing several books to deliver to his clients.
We asked for 10 minutes, but the interesting insights he shared had to take more than that.
 Without further due, let's jump into the interview!
---
Sylabs: Can you tell us a bit about your background and what you do?  
I am the co-founder of Kotoob, a platform where we sell books online with cash on delivery. 
I grew up in Medea, 90 km far from Algiers. I came from an IT background. I have a master's degree in computer science from the University of Sidi-Bel-Abbes, then after finishing my studies, I started working for a private company as a developer, before starting Kotoob with my co-founder Roufaida Allaoui. Actually, I have always wanted to start my own project. Since I was 15, I wanted to start working for myself but maybe my studies made me overlook entrepreneurship, but when I started working as an employee, I realized that was not my aspiration, and so the idea of Kotoob became my real aspiration.
"We make unavailable books available to everyone.
---
Sylabs: How did that become your aspiration?  
I have always loved reading books. Even if I am not an avid reader, but I have always been interested in books. I encountered a problem. I couldn't find certain titles; they were unavailable and that was frustrating. We wanted to find a solution for ourselves and for who are facing the same problem as us. 
 We started this journey in September 2017 as a Facebook page. At the beginning, our main goal was providing books to Algerians with a suitable price. The beginning had known success and we could get ahead. We have grown our presence on social media to reach 70 000 thousand followers. We also work with delivery companies in all over Algeria. Right now, our focus is still mainly on social media.
In addition, we have a publishing house and a distribution center here in Algiers. Then after two years, while working with exporters, we observed that it was challenging to import books to Algeria, so we launched a publishing house, in which we co-edit with other publishing houses and translate works from English and French into Arabic.
Our core idea is solving the problem of lack of books. Or to put it in a few words, we make unavailable books available to everyone.
---
Sylabs: How do you do that?
Simple and easy! you order any book you want; whether you are here in Algeria or abroad. Then we take your order and deliver it to your home in any place you are in any  Willaya. Also, we provide books from Algeria to other countries. In fact, we already have clients in Europe, the MENA region and the US.
---
Sylabs: As you are from Medea, how important was it to move to Algiers?
I have been living in Algiers for four years now! It was important to move here because I think it is an empowering place to work in terms of logistics. Everything is concentrated here, all the suppliers are here, mobility is easier, and there is this opportunity to meet other startup owners and attend business meetups. However, by saying that I don't imply that you have to be in Algiers to start and grow your business. There are many successful startups and businesses that have known success away from the capital.
Learn more about the Algerian entrepreneurial ecosystem.
---
Sylabs: How many Willayas do you provide the service of cash on delivery? And how do you decide which Willaya to work with?
Right now! We provide up to 11 Willayas,  the biggest Willayas: Algiers, Batna, Oran, Constantine, etc. Right now, we are working on expanding the cash on delivery service to other Willayas.
As for how do we decide, it depends on the number of the clients we have in a Willaya! We work best with Willayas where we have more clients as it's much more beneficial and cost effective. I mean when we send packages to, let's say, Oran, it's much efficient to send a big package that has 20 or 50 orders within it rather than a package that has 2 or 3 books within it

---
Sylabs:  In 2019, you have been part of the Algerian Accelerator Program here in Sylabs. How has that been for you and for Kotoob?
Actually, we have learned a lot! It was a big boost for the business, because we have learned how to execute rapidly and implement our ideas effectively and measure their applicability. Even personally speaking, the program has impacted our mindset because we have expanded our network and therefore exchanged experiences and learned from other startups and other entrepreneurs. This helped us minimize many milestones.
---
Sylabs: What do you think about the importance of being surrounded by many entrepreneurs here?
I think the advice! And the information you get from other entrepreneurs is very important! In some cases, we were stuck in some problems and we asked some entrepreneurs, who  have passed through that, be an entrepreneurial problem or not it is often beneficial. For example, just few days ago, we were looking for a place to rent, and it happened that one of the startup owners already has a place where they are renting, so we could share it, that was a micro example but you can get the point.
---
Sylabs: Speaking of entrepreneurs, do you think that all startups should have co-founders?
Two minds are better than one! It's better to have two minds thinking about the same project, because when you are alone, you don't see the bigger picture, you just see the business from one angle, but if you have someone with you, you will guide each other to make better decisions and evolve better.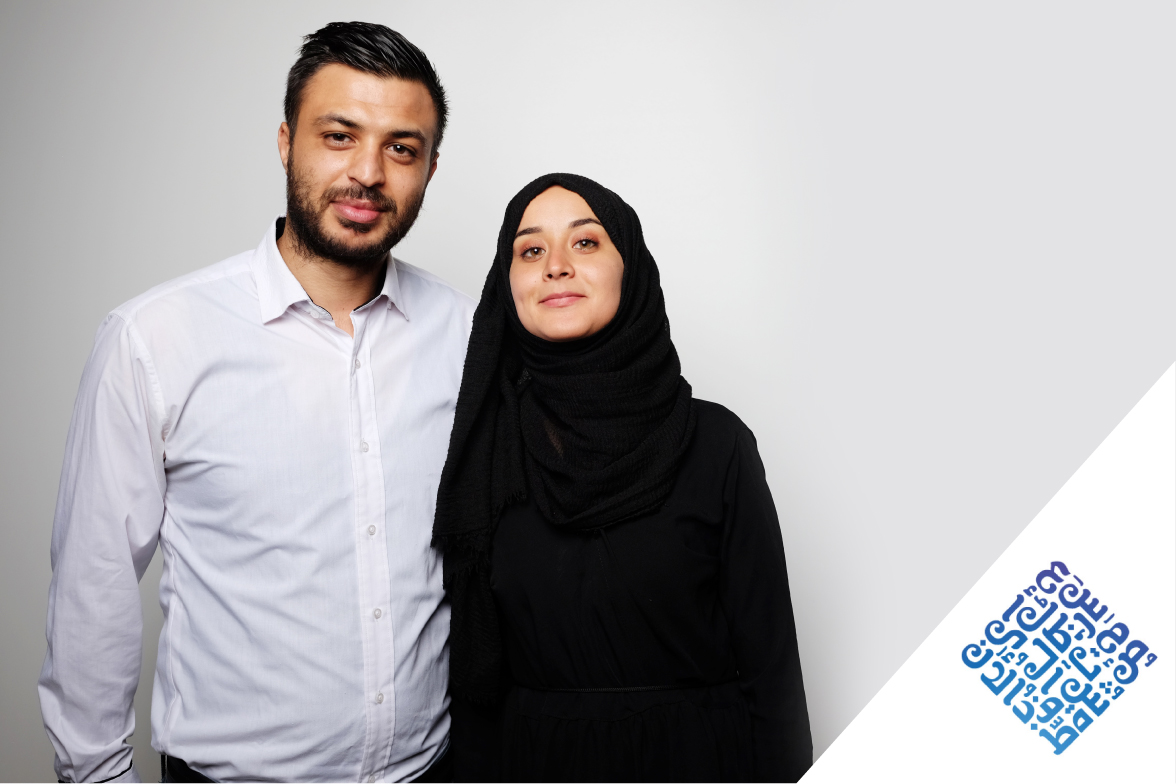 ---
Sylabs: What are the criteria of a good co-founder?
A cofounder should be someone who is really connected to the market and someone who really understands the business that you are working in. By understanding I mean someone who learns rapidly, someone who has a vision, an active listener, and someone who adapts to challenging circumstances. Both co-founders should have this! They should communicate and they should not be stubborn.
---
Sylabs: How do you perceive the Algerian market?
First of all, I see it as a very promising market since it's  big as is Algeria and it's also empty. In addition, there is a huge demand for books here, mainly unavailable books and recently published books. Even if the rate of the Algerian reader is very low but I think there is a considerable demand. And I think it's about the type of books available in the market. The problem is not whether the Algerian reader does read or not. The problem is mainly availability. If the Algerian reader finds the book they are looking for, they will read it! The proof is that a lot of Algerians read in PDF. So, whenever they are looking for books, they look for it in the stores, if not  they look for the PDF format of the book.
---
Sylabs: So, we understand that Kotoob has contributed in promoting the culture of reading in Algeria?
Yes! Definitely! That's one of our social goals. We believe that reading is the cornerstone to take any nation forward, and it was unpleasant to learn that people here don't read much. But since we launched, I think we have helped people got more engaged in reading. We have created a community of readers on social media and people now can find the books they are looking for, and I think this decreased the frustration.
So yes! We have contributed in promoting the culture of reading! We are alone, but we definitely have!
---
Sylabs: If the Algerian market is promising, as you mentioned, does that mean there aren't many challenges?
No of course, there are many challenges, in terms of the Algerian mindset, and the Algerian systems of working. One of the top challenges relates to the Algerian perspective towards e-commerce. In recent years, there has been a boom in e-commerce but to convince people of this new trend, we had to win the trust of clients that they can order anything from the internet and can receive it without any problems. So, the first thing was building trust between the sellers and the clients. In fact, some people are convinced now, but there is a large number that still is skeptical. I think this requires time and positive feedback coming from the ones who are convinced to spread trust among everyone.
Another challenge is related to the delivery. There is a huge problem of delivery in Algeria since delivery services available now in the market can't fulfill all the demands.I think these companies need to work smartly on solutions that can bring much more people to e-commerce bring more clients to e-commerce.
Also, we have the challenge of the payment systems, because in some Willayas we don't provide cash on delivery, so some clients should pay through post offices, they have to go there and take the queues, which will take long. Actually most people avoid this but we're trying to expand the service of cash on delivery to all Willayas
---
Sylabs:  What about the status of startups in Algeria?
 As for Algeria, I think we should move to the startup nation in order to get rid of that dependence on oil that we all want to avoid. When most of the economy is based on the ecosystem of businesses that innovate, that can expand inside and outside the country, things will change.  If startups are built properly and there is a strong entrepreneurial ecosystem, this can bring a huge wealth for this country. Fortunately, Algeria is moving forward to achieving that, moving slowly, but surely.
---
Sylabs: What do you mean by startups should be built properly? 
Right now, our government is working on promoting this trend of startups and innovation but this should be done carefully, plans and decisions should be well-studied because  not every successful case in another country can bring the same results here. We can't copy another plan that has been in the US or Europe and just implant it here. This is because the Algerian market is not the same so this requires extended research and careful plans to follow. We can be inspired from the MENA region or Africa since we are similar in many respects like the service cash on delivery. And we have the same ideology and the same mindset so we can surely learn from them.
---
Sylabs: What are your aspirations for Algeria? In the area of entrepreneurship, and for Kotoob and your publishing house?
So, for Kotoob, we are aiming to expand our services to all Willayas, especially with cash on delivery, and provide as many titles as possible. Right now, we are providing 700 000 titles, and we'll try to increase this number.  In our catalogue we have more than 200 000 titles that clients can order, so we are working on expanding that. Also, to provide our services outside of Algeria. For the publishing house, we are working on providing excellent titles in the market, collaborating with foreign publishing houses and we are also working on translating best-sellers of books in the Arab region.
---
Sylabs: Based on your experience, what do you think are the common mistakes that inexperienced entrepreneurs make?
They take too much time into planning! Start the business then you will learn while doing the business. Because at the beginning you wouldn't know a lot of things, and the only way to learn them is not advice, but rather making mistakes and learning from them. In this way, you can grow and expand and your business will swell.
In addition I think most entrepreneurs don't work on their relationship with clients! A good relationship with clients is a pillar for the success of the brand and the business.
We hope this interview has been helpful and interesting enough to make you move forward with your business or start your own business.
---
Find more about Kotoob:
Instagram: https://www.instagram.com/kotooob/
Facebook: https://www.facebook.com/kotooob/
Website: https://www.kotoob.dz/