How to choose your university major?
24/10/2020

Posted by:

Riane Guefaifia

Category:

Blog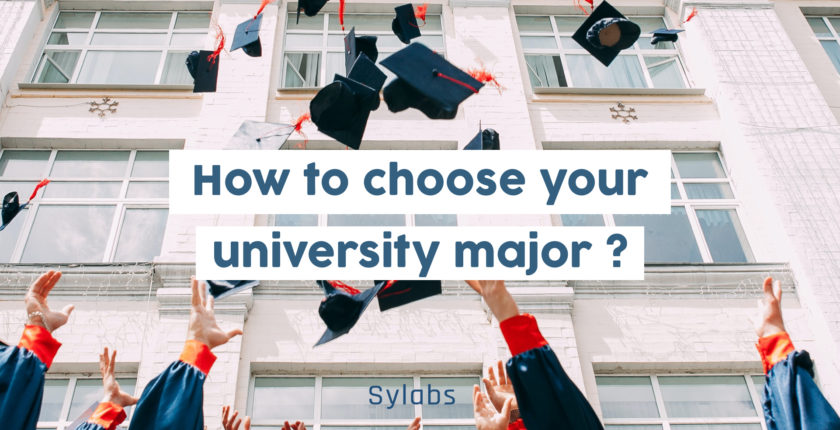 During the late 90s, Algeria faced a massive unemployment problem as the rates were at around 30%. Algerians were lucky to find any sort of job, it didn't matter whether they liked it or not, what mattered is that it provided them with basic life necessities. Parents of millennials lived through that period, and the economical situation of the country at the time taught them to care primarily about how to make ends meet. This mentality was passed onto our current generation as parents usually push their kids to choose majors in which they are guaranteed to find jobs, such as engineering and medicine. It doesn't matter if the kid is best fit for these majors or not. 
Nowadays, even though the current state of our economy isn't what we want it to be, the unemployment rate in 2019 registered at 12%, less than half what it was 22 years ago. Moreover, the invention of the internet revolutionized the way countries developed economies. Many businesses rely on the internet to sell their products. In our country, more and more people are choosing to start small businesses in fields that interest them, and their business models are accustomed to the new way of doing business.
 These millennials are well connected to the world through the internet. They are up to date with the various technologies happening everywhere, which in one way or another leads to them developing an « I-would-do-whatever-I-want-and-whatever-I-know-how-to-do-because-that's-how-everyone -everywhere-lives » mentality. A growing number of this generation is interested in working at something they like rather than random jobs only to make money, and in some cases, it meant not using their university degree. During our interviews under the series of "She's Algerian", we learned a couple of things in relation to this topic.
First off, Amira Boutouchent who is Co-founder and CEO of BRIDGR, a Marketplace that allows small and mid-sized businesses find and collaborate with qualified experts to sustain, grow, and digitalize their operations. Amira graduated with honors from ESI – Ecole Supérieur d'informatique, with an engineer's degree in computer systems. Afterwards, she obtained an M.Sc. – Masters of science, business administration and management from HEC Montréal. During the interview, Amira explained that her job title doesn't require any sort of coding or computer engineering, however, she uses her computer science background to effectively communicate with BRIDGR's IT team.
Amira told us during the interview that her extracurricular activities with the ESI university clubs helped her discover that she was good at management, which in turn helped her realize that she would be a good fit for a manager's position, and thus entrepreneurship. One realizes from this that we have to push our students towards experimenting as much as possible with different events/workshops related to many disciplines in order to help them understand what they aspire to be in the future.
These past couple of days, we witnessed a great trend on our social media platforms. Many university students, influencers, and initiatives shared detailed information about different university majors seeking to help new high-school graduates choose their specialties. Unfortunately, that alone is not enough. High-school students needn't only to understand what the major is, but whether they are a good fit for it or not. Taking into consideration their talents, what they strive to be, and how they imagine their lives in the future.
In another interview with Roufaida Allaoui, Co-founder of Kotoob, an online bookstore and a publishing house, we discussed her university major and academic background. Roufiada obtained a Masters in immunology and infectious diseases, a major she said she loves and wishes to one day work in, but she's currently focusing on her business. Earlier in the interview, she mentioned that after graduating high-school she wanted to access pharmaceutical studies but her BAC results weren't sufficient. She was oriented towards studying hydraulics in Oran, 312 km away from home but she refused because of the distance. 
This pattern is repeated with so many people in our society. Individuals successful in what they do, smart and ambitious, work in fields completely unrelated to what they studied at university. The reasons are to be analyzed since they are numerous and complicated. This problem has created a critical gap between the job market and the rate at which students graduate in different majors. 
 This gap feeds on the complete absence of formal orientation within our education. In order to decrease its impact, it is necessary to ask kids throughout middle school and high-school about their interests, then help direct them towards the most suitable future jobs. Additionally, making sure our enforced laws and regulations are malleable and flexible enough to help further orientate university students even after entering the major. We can't condemn 18 year olds to a specific specialty for the rest of their lives. 
Yes, it is hard to make these drastic changes to what we currently have, and because of that, we first need intensive statistical studies to be conducted on the problem and the different itineraries we can opt for to help solve it. The way we see it, a better orientation will help grow our economy; the right people working the right jobs would eliminate many problems our society suffers from. Nothing is easy and it all comes at a price.
El Khansaa Medjeber